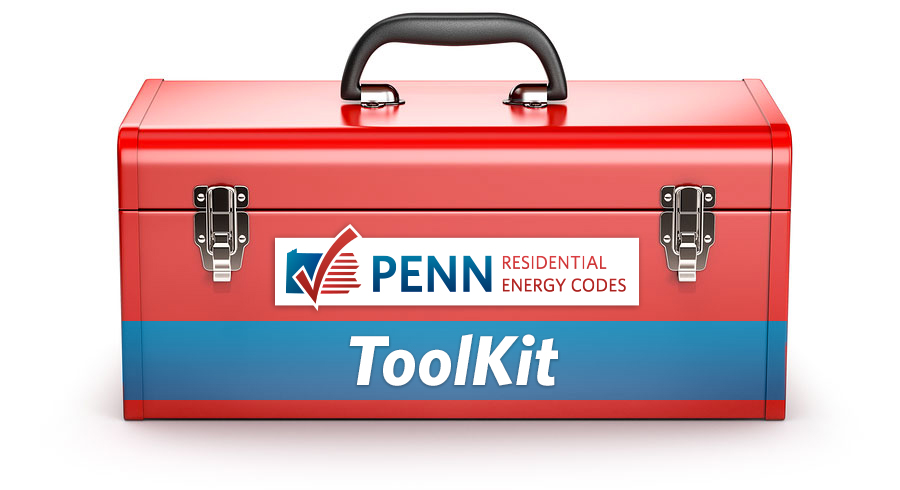 Energy Code Toolkit
Below you will find energy code checklists, forms, and guidebooks to improve your knowledge and ensure compliance within the state of Pennsylvania.
Webinars
Recent webinar: New Tools for Quick Residential Energy Code Enforcement
Email Brandon at bcornell@psdconsulting.com to request an archived webinar recording or slide deck.
Pennsylvania Residential Energy Code Field Study: How Are We Doing?
Using the E-CODE Assistant: An iPad-Based Energy Code Checklist and Educational Tool
Builders, Code Officials, and Home Energy Raters Working Together
Understanding Blower Door Testing and Documenting Results
Understanding Duct Leakage Testing and Documenting Results
Flaws and Fudging HVAC Equipment Sizing Calculations
Insulation Installation – A Tongue Twister and Construction Kicker
Understanding REScheck and the Simulated Performance Alternative
Energy Code Plan Reviews and Bullet Proof Submittals
Important (But Commonly Missed) Air Barrier Details
Going Beyond Code – Above Code Programs and The Future of Energy Efficient Housing
The IECC and Energy Code Resource Guides
Residential energy code compliance guide for code officials, an air leakage guide, and other resources
Prove your homes are efficient with the Home Energy Rating System (HERS)
Building Efficiency Videos from WSU
Watch videos on duct sealing, air sealing, and ventilation from Washington State University. This isn't Washington but basic concepts still apply.
Air Barrier and Insulation Criteria Videos
Watch videos that cover the IECC's Air Barrier and Insulation Criteria featuring the Penn Energy Codes Program Manager from his time with the PHRC at Penn State with support from the PA Department of Environmental Protection and Pennsylvania Construction Codes Academy.
The Pennsylvania Construction Codes Academy
PCCA hosts Residential Energy Code Academy programs each year geared toward code officials seeking to obtain their energy code certifications or anyone who wants to learn more about the energy codes. Check out their website for upcoming programs.
Uniform Construction Code (UCC) Information
Visit the PA Department of Labor and Industry's UCC website for information on UCC regulations and statutes, adopted code, listings of certified code officials, third party agencies, continuing education providers, and other information.
Articles, guides, and popular building energy and moisture related topics